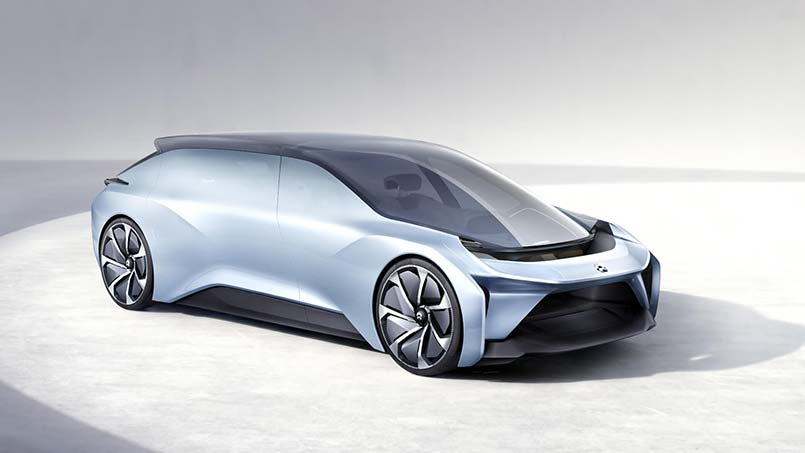 20 Mar

Start Up Aims to Out Do Tesla On Electric Car Front

Image: Nio

The electric car market is fully charged with innovation. Manufacturers are aiming to get the best speed and the best range out of their new models. Tesla are renowned for their electric cars and are a leader in their field. However, there's a new start-up looking to compete with Tesla. The start-up company Nio (formerly NextEV) is set to release their new self-driving vehicle in the United States in 2020.
Conceptual Luxury for the Future
Nio have released conceptual designs for its Nio Eve, the possible future of self-driving electric cars. The designs displayed a stunning interior that had the feel of a luxurious private airport lounge, rather than a vehicle. The inside featured plenty of space, folding tables for a mid-journey meal, and even reclining seats.
A Car That Learns About You
The Nio Eve doesn't just look amazing, it features NOMI: 'an artificial intelligence engine with an intuitive human interface'. This means the car will have the ability to project visual and audio to both entertain and inform the car's occupants. The Eve promises to be more like a plane journey in first class, rather than a long, cramped commute in coach. The folding table and reclining chair mean more time to work and rest.
Back to the Present – a Record Breaker
The NIO EP9 broke a new record recently on the Nürburgring Nordschliefe with a time of 7m 05.12s. Additionally, on other tracks, this model achieved amazing speeds of 160mph on tracks – all without a driver. This demonstrates the possibilities of these self-driving, electric cars meeting a variety of industry uses.
Pushing the Boundaries on Industry Standards
Why should a start-up aim to compete with the likes of Tesla? It already seems that Tesla is ahead of the game with electric cars. As one of the most funded car companies, Tesla has the technology and ideas at its fingertips. But the car industry needs game changers such as Nio. Excitable, focused start-ups help to shake conventions and push the already established boundaries.
Quicker Development, Better Results
Some ideas and concepts need to be gently nurtured, but some ideas, especially in the electric car field, need to be challenged and continually explored. The electric car is a fun new concept, but it is essential for the future. The more time that is spent on this new technology, the quicker it will become available for the mass market. The Nio EP9 promises to charge in just 45 minutes and has a range of up to 245 miles.
The Driverless Car
Why create a driverless car? For the same reason as creating electric cars. Driverless cars have many applications, including safer travel and time efficiency. Driverless cars remove the stress of the daily commute or long journeys. It's an exciting glimpse into the future that isn't too far away.