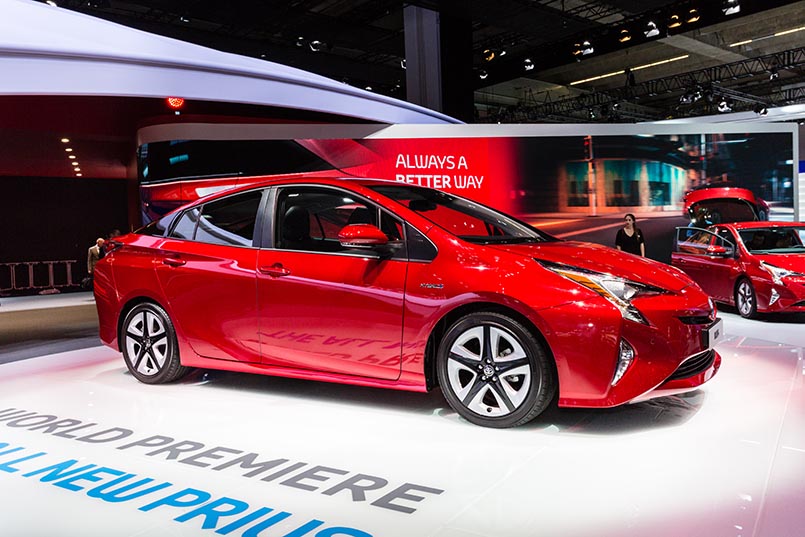 22 Aug
The Toyota Prius is typically favoured by Uber drivers and taxis alike, and the fully electric version makes for an environmentally friendly transport option. An ideal option for urban drivers of short distances, the hybrid version of Prius offers a practical car for families and businesspeople alike.
Overview
This hybrid car has a 30-mile range on its battery, so in theory, would never need to see a drop of petrol. This has in also been aided by the massive upgrade to charging points that continue to roll out across the UK. However, there is no need to fear the dreaded range anxiety. Should you run out of electricity, you won't be left stranded at the side of the road. The petrol engine will effortless takeover over, in leaving you free to find a charging point at your leisure.
The Environment
The Prius Plug-in is probably still recommended for those who do a lot of town driving, as it will dramatically lower emissions, but still be within range of those all-important charging stations. The town driving theme is reflected in the interior of the car with its slightly flat seat, which do cause a bit of discomfort on cross country motoring. However, the Prius Plug-in still finds favour with taxi drivers who must spend extended periods in the driving seat.
A Changeable Drive
The vehicle features three modes of driving, and changing between them is pretty easy. Choose from Normal, which as the name suggests, offers a pretty standard drive and is touted as in the range of a turbo diesel small car. In Power mode, you can expect a more Top Gear style experience, and one can almost hear Jeremy Clarkson commenting on the accentuated throttle response as you put your foot to the floor. It should come as no surprise that the final mode, Eco, offers some thing of a more passive ride, giving a lower response time, but this is certainly not unbearable, and perfect for town driving.
Also Included
The Prius Plug-in also features some added extras. You will find the car equipped with Toyota Safety Sense, a rear view parking camera and sat nav as standard. All of which adds to the appeal when compared with other vehicles that have less built-in. Of course, there is always the addition of a free charging point at home. A grant is available from the Government and Toyota have committed to making up any shortfall to ensure it is free to the end user. Another free perk is that from the entry-level vehicle up there is the additional option of a solar roof, which has definite appeal to those who might feel guilty having a hybrid rather than a fully electric vehicle. It can help extend the range by charging when parked but remember the UK sun is not the strongest, and you will be looking at a 65% charge in a two-hour period – but if work has a sunny spot in the carpark, you may well be able to take advantage.
The Statistics
0-62:   11.4 seconds
Engine:   1.8 liters 4 cylinder petrol with electric motor
Transmission:   Front Wheel Drive single speed CVT auto
Top Speed:   112mph
Economy/CO2:   283 mpg/22g/km